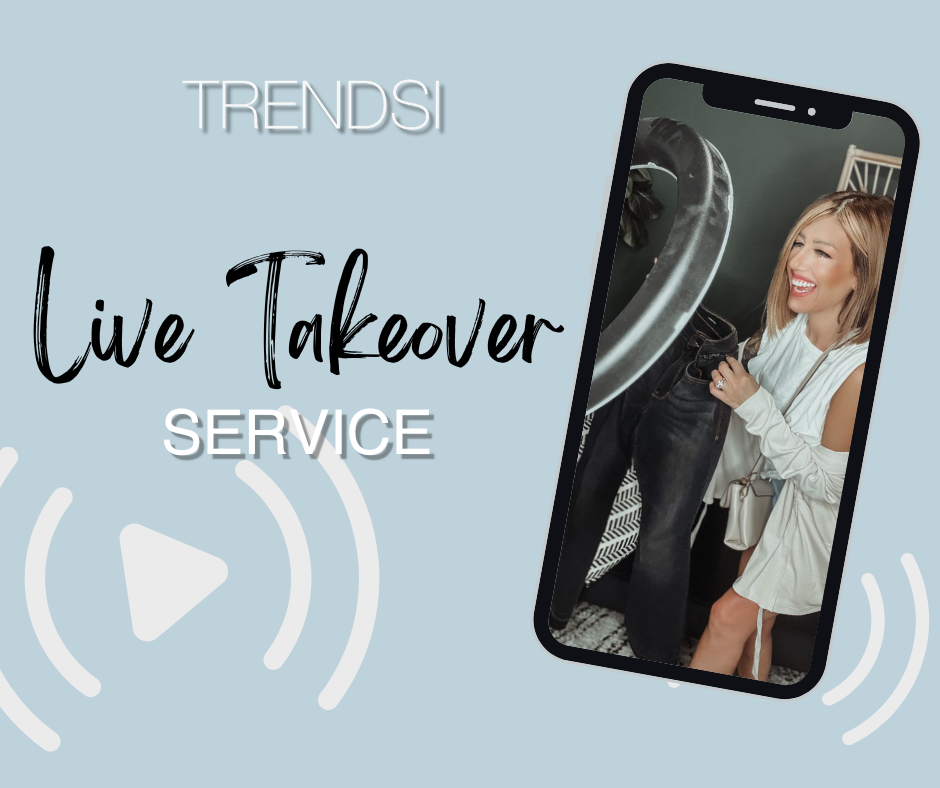 Can't make it to the live center? Can't be live 24/7? Planning on upscaling your business's online presence? Trendsi now offers a live takeover service to do live selling for you!
Experienced live hosts, choose one of your choice at the time of booking
Choose from HUNDREDS of samples across multiple categories
Live hosts will align with your branding
Live selling exclusively from the Trendsi LA Live Center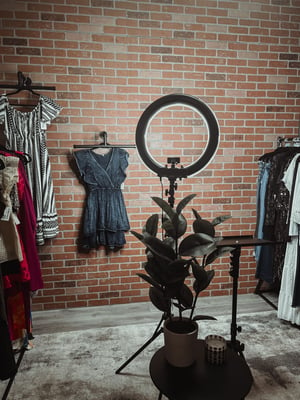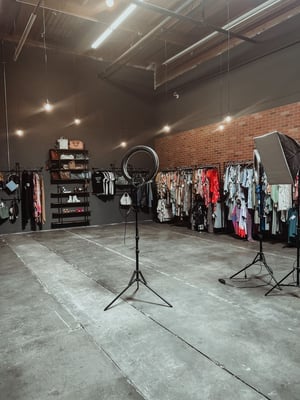 ---
How It Works
Hours of Operation - Dates and times available will vary depending on each live host. Please check their individual booking links for availability.
Hourly Rate - Varies by live host and includes the live takeover host and samples. Each live selling slot is one hour long (15 minutes to prep and login, 45 minutes going live) so please book multiple spots if you'd like the host to go live longer.
Samples - Each live host will have their own collection of samples to choose from. You will find the collection via their link in the booking details before selecting a time slot. Collections of samples available are updated weekly.
Channels - The live host will go live for your business on any channel of your choice. There will be a form sent to you for all login and other details required for the live.
Booking - Once you book a time, there will be a confirmation email sent and a member of our team will reach out no later than 8 hours before your scheduled live to coordinate any last details.
---
Preparing For Your Live Takeover
Import products to your Shopify store - Each live room will have a different collection of samples to choose from. Links to each collection can be found in the booking details of each live suite link below.
Tip: For a one-hour live, we recommend choosing 20 - 30 products
Set your retail pricing - If you do not know how much to set your retail price, Trendsi does have a suggested resale price, which is about 2x the product cost. We do suggest spending some time to calculate your expenses and sell at the correct price point for your business.
Warm up your live sale - Make sure to warm up your audience and get them excited for the live sale.
Ensure your live selling channel is set up and ready to go - To make the most of your live sale takeover timeslot, please ensure your live sale collection is ready to go on whichever channel you want the host to go live on. We highly recommend going live on your social media channel with the most following and activity for the best return.
Get creative with collections and create upsell opportunities - Be intentional when picking the samples and create outfits for an upsell opportunity.
Ensure accounts are ready for live host to log in - Whether you like to go live on Facebook, CommentSold, or any other platform, please be sure that information is ready and provided at time of booking.
*For additional tips on prepping for live takeovers, watch this tutorial from Katrina here.
---
About The Hosts
Name & Measurements

Bio

Vivian

Height: 5'0"
Tops: Small
Bottoms: 4/27
Dresses: 4/6
Judy Blue: 3/26
Bust: 34

Vivian is a trusted and experienced live streamer who has learned a thing or two about building a loyal fan base! Vivian has a TikTok following of 15k+ and understands the importance of creating a positive image for herself and other brands. Vivian works hard to make sales without being pushy by providing a personable live and creating a picture of ways to style each piece!
If you are looking for someone who is passionate, outgoing and up to date with all fashion trends she's your girl! She has learned to make great relationships with customers and many brands through her lives so they keep coming back! When she goes live your customers should expect a memorable experience and a safe space to embrace fashion and the best part of being ourselves.





Makayla

Height: 5'0"
Tops: Small
Bottoms: 3/26
Dresses: Small
Judy Blue: 1/25
Bust: 36C

My name is Makayla, I am 22 years old and I like to say I have a very outgoing personality. I am very bubbly and quick on my feet. I have been told I love to talk which I think is an asset with live selling. I recently graduated with my Bachelors Degree in Sociology from the University of Oregon and I'm currently working on my Masters Degree. I have always loved and admired fashion and the hard work that goes into building a business. Even though I'm new to live selling, I am very comfortable in-front of a camera and know how to make conversation. I love supporting boutiques and I am passionate to help businesses grow and succeed. I am here to help promote your products to the best of my abilities and help boost your sales.



Book Makayla
Makayla's Collection





Caitlyn

Hi! I'm Caitlyn, your go-to live host for a memorable live selling experience! At 23 years young, I've already got nearly a year of live experience under my belt, and let me tell you, it's been a thrilling journey with Trendsi. Being part of the Trendsi team isn't just a job for me – it's a passion that fuels my excitement for every product we offer. You know what sets me apart? My dedication to details. When I showcase our pieces, I make sure to dive deep into every intricate feature, ensuring that you're not just buying, but investing in something you'll truly cherish. Your confidence in your purchases means the world to me. My energy is infectious, and my bubbly personality shines through both on and off camera. I believe in more than just selling – I'm all about creating a genuine connection with my audience.





Rong

I am a SoCal girl that loves to eat, travel, and spend time with the family. While I am new here, I have had a deep love and an eye for fashion. I have a fashion degree from LATTC and am knowledgeable about garment construction. I am outgoing, honest, positive, and would love to help you acquire trendy pieces for your boutique. I hope to leave you feeling confident and making the right choice for your boutique.




Amanda L.

Hi! I'm Amanda, and i'm known for my plus sized curves and vivacious personality. As a bigger gal, I do my job with joy! I can't wait to walk you through our collections from the view point of your curvier clientele. Shopping doesn't have to be stressful for us anymore when there are Judy Blues in the world! Let's be online dress-up buddies!




Carrisa

Hi my name is Carissa & I'm 25 years old. I've been live streaming for over a year now & it is something that I'm truly passionate about. I love all things fashion, beauty, & lifestyle. I am a mom of two, so my style ranges from trendy, vintage, & streetwear, to minimalist, business, & formal. I am also a business owner myself, so I know how important it is to partner with a company you can trust & rely on! I am a firm believer in quality over quantity, which is why I love Trendsi so much!! I'd consider myself very outgoing & personable.





*More live hosts will be added as soon as they are available
We can't wait to work with you. Please reach out to our 24/7 Customer Support team via support@trendsi.com if you have any questions.