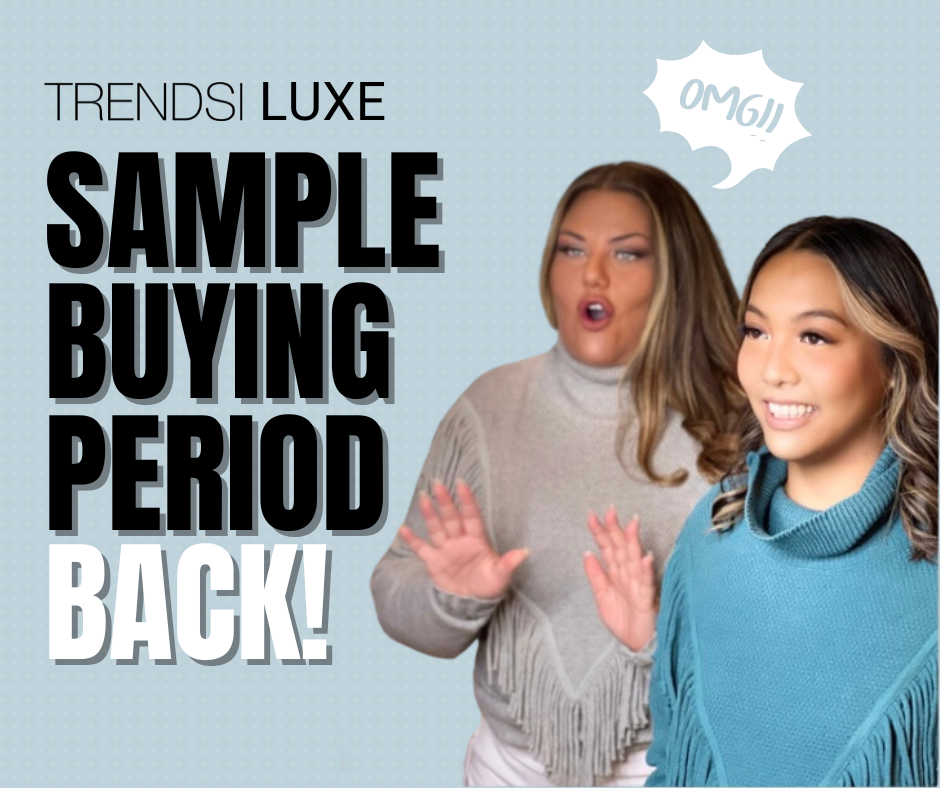 This is NOT a drill. We are extremely excited to share that the Sample Buying Period will make a return to Luxe Collection starting on Monday, August 28! Trendsi's previous decision to discontinue the sample buying period was due to restocking and inventory issues. However, we understand that having a sample buying period can help tremendously in terms of preparation and getting your customers excited about a launch, so we have been devoted to solving this problem and bringing the experience back!
Sample Buying Period and Launch Schedule
Sample Buying Period - Monday of each week with 50-60 styles

Limit 2 qty in each style

Marketing Materials - Wednesday of each week

Product launches - Wednesdays and Thursdays at 8:00am EST(the following week)

Example - Sample Buying Period is on Monday, 8/28 for the product launches on Wednesday, 9/6 and Thursday, 9/7 the following week
During this period, you can add listings to your Shopify as a draft, but your customers will not be able to make a purchase until the official launch date

If they place an order during the sample buying period, the order will automatically be canceled even if it includes non-sample period items
Benefits of Trendsi Luxe Collection
Fast Shipping Time
Time is of the essence in the world of dropshipping, and we understand that. With the Luxe Collection, you can expect 2 - 5 business days shipping from our US warehouse - a perfect fit for those selling via TikTok shop.
Trendsi Original Photography
What makes the Luxe Collection more exclusive is the original photography we provide along with the listings. These exclusive brands will continue to offer original photography, with regular and plus-size models, and even fit videos when available.
Weekly New Arrivals and Deep Inventory
We understand the importance of maintaining inventory levels to meet the demands of your customers. New arrivals will be available each week. With our expanded inventory, you can expect deeper stock levels on these new products. Old listings will not be delisted because they will be monitored and have the ability to quickly replenish as you sell more. Furthermore, we can accommodate quick restocks based on demand through the 'Request Restock' button.
Brands Exclusive to Trendsi
With the return of Sample Buying Period, we are also thrilled to bring top sellers from Trendsi exclusive brands like Simply Love, melo, Baeful, Double Take, Woven Right, and Adored to the Luxe Collection! These Trendsi exclusive brands not only excel in terms of quality, selection, and price, but are also top sellers and trending styles for the upcoming seasons.
Wholesale and Dropshipping Options
Whether you're looking to stock up your inventory or fulfill customer orders seamlessly, our Trendsi exclusive brands will be available for both wholesale and dropshipping. This flexibility empowers you to choose the approach that best aligns with your business strategy.
These exciting updates reflect our ongoing commitment to providing innovative solutions based on the feedback given to us. Stay tuned product sneak peeks and the return of the Sample Buying Period to our Luxe Collection!