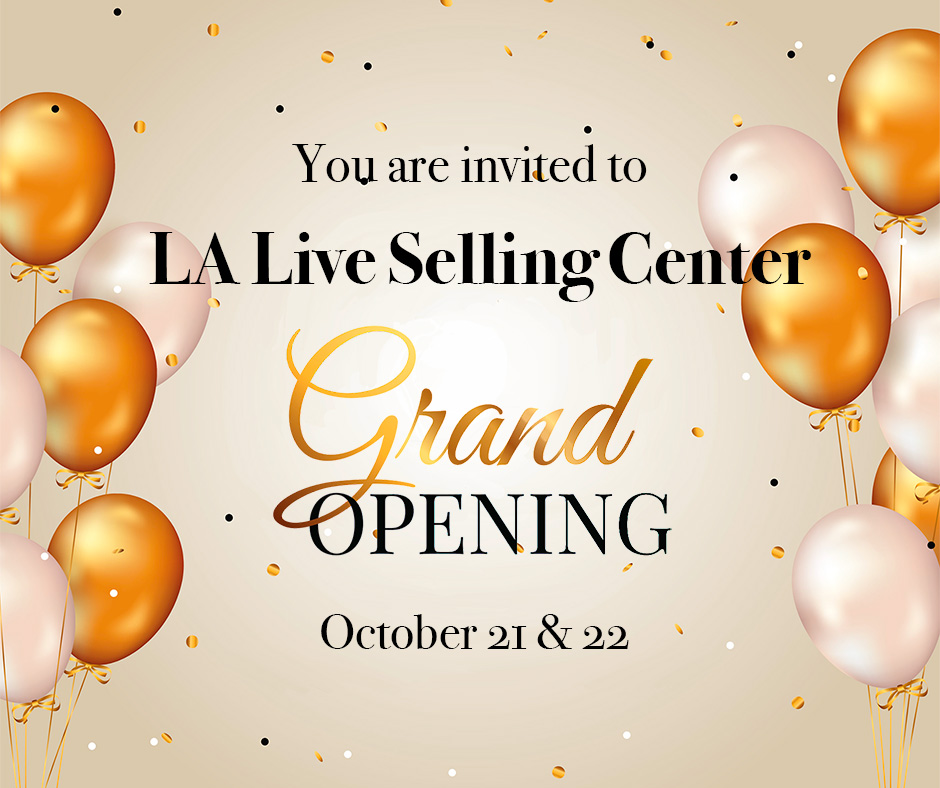 You're invited to our biggest event yet.
Pack your bags and join us for the GRAND OPENING and unveiling of the Trendsi LA Live Selling Center!

Location: 17300 Railroad Street, Unit D, City of Industry, CA 91748
Date: Friday, October 21 and Saturday, October 22
Time: 9:30am - 10:00pm
Cost: FREE
Our LA Live Selling Center will be a permanent location where you can schedule your very own live sales and use our booths, lighting, and a wide variety of samples, right on site. Come prepared for two days of live sales, learning, networking and fun!
What to expect at this two-day event
Go Live
Live selling is the highlight of this event!
At our Grand Opening, we will have six live selling booths in use throughout the event, complete with personalized assistance from our team.
Choose from HUNDREDS of samples across multiple categories like clothing, jewelry, shoes, and more specials that are perfect for gift season. Our team will help you prepare all samples you have selected before you go live.

Spots are limited, so RSVP to the event and book your live sale!
Learn with Us
Owning a business means constant learning, so we have prepared some amazing opportunities for you. With topics from hot-selling items to marketing tips, we will have something for everyone.
Keynote speakers from TikTok will share their secrets to selling opportunities and help you grow your business
Education panels and Q&A sessions with live-selling experts
Inventory planning to ensure live-selling success
Meet Our Vendors
Representatives from our popular US suppliers, such as Judy Blue, Sew In Love, White Birch, Heimish and more, will be there with samples and sneak peeks of pre-sale products. Don't miss out!
Take Photos & Network
We'll have beautiful Instagrammable walls where you can take selfies, record TikToks, or take group photos, so come dressed camera ready! In addition, you'll have opportunities to network with other boutique owners and have one-on-one conversations with our team members.
Book a Free Photoshoot Session
We will offer free 30-minute photoshoot sessions so you can have personalized content for your launch of Trendsi products.
Spots are limited and filled on a first-come, first-serve basis, please emailbreanna.cody@trendsi.comto reserve yours!
Food & Free Gifts
With so much to do at the event, be prepared to stay a while! We will provide pastries and coffee in the morning and a catered lunch for you to enjoy while you listen to speakers and mingle with other sellers.
Each attendee will get to spin the Trendsi wheel and take home a special gift!
Book Your Stay
Need to book your stay? Here are some recommendations close to the event location:
1. Courtyard by Marriott LA Hacienda Heights
Address: 1905 S Azusa Ave, Hacienda Heights, CA 91745
Phone: (626) 965-1700

2. Best Western Plus Executive Inn Rowland Heights
Address: 18880 Gale Ave, Rowland Heights, CA 91748
Phone: (626) 810-1818
We're excited to see you on October 21 and 22! RSVP now and don't miss out on this exciting FREE event! (All attendees must RSVP to ensure we have enough food and prizes planned for everyone).
Can't make it to the event?
If you can't make it to the Grand Opening, no worries! You can also catch up with all of the fun on our social media channels.

If you have any questions, please reach out to our 24/7 Customer Support team via support@trendsi.com.

The Trendsi Team