Set up and how to identify local pickup orders

Offering Local Pickup
There are two potential scenarios if you carry your own inventory and use Trendsi as a dropshipping service when offering local pickup for your customers.


Scenario 1 - Offering local pickup for your own inventory and Trendsi products
If you carry your own inventory and also want to offer local pickup for Trendsi products, they can all be stored in one Shopify location.
However, the pickup time would be different for Trendsi products compared to the inventory you have on hand since Trendsi has different shipping times.
In this scenario, we suggest editing the expected pickup time:
Shopify --> Settings --> Shipping and delivery --> Local delivery --> Select local pickup location
Change "Expected pickup time" to 5+ days and be more detailed in the "Pickup instructions" to set the customer's expectations

Pickup instructions example- "Local pickup can be ready anywhere between 3-10 business days. You will receive a pickup confirmation email once it is ready. Please bring your confirmation email when you come to collect your order."
An expected pickup time of 5+ days acts as a catch-all for your products and Trendsi products because you have the ability to mark orders as "ready for pickup"




Scenario 2 - Offering local pickup for your own inventory but not Trendsi products
If you do not want to offer local pick up for Trendsi products, we recommend creating a new location to sync Trendsi products. To set a new location, please see this article.
Please note- The checkout experience for Scenario 2 is limited by Shopify.
After you enable the local pickup option, your customers can choose between Ship and Pick up in the Delivery method section of your checkout. When they select Pick up, they can choose the location where they want to pick up their order.
Customers see the Pick up option only if they meet the following requirements:
All the products in the cart are eligible for pickup.
All the products are available in the inventory at a pickup location.
A customer can't choose to have some items shipped and some items picked up on the same order. Instead, the customer should place two separate orders. If you're using a theme that supports pickup availability, then the customer can see whether a product is available for pickup before they add it to their cart.
See this Shopify help article for more info- Setting up pickup for online orders.

How to Identify Local Pickup Orders
Shopify Local Pickup Orders - The address you have designated as the local pickup address in your Shopify store will automatically sync to the Trendsi app.

CommentSold Local Pickup Orders - We are able to identify local pickup orders from CommentSold and will use your Trendsi default address as the shipping address.
For all CommentSold sellers who offer local pickup as an option, please ensure you have set your local pickup address as default in the Trendsi app.
To do this, go to Account --> Settings --> Shipping Addresses

All local pickup orders will show in the Trendsi app with:
Customer's Name and Phone Number
Local Pickup Address
Local Pickup tag

Go to My Account--> Orders
Local Pick orders will be identified on the order summary page by Local Pickup tag next to the Shopify order number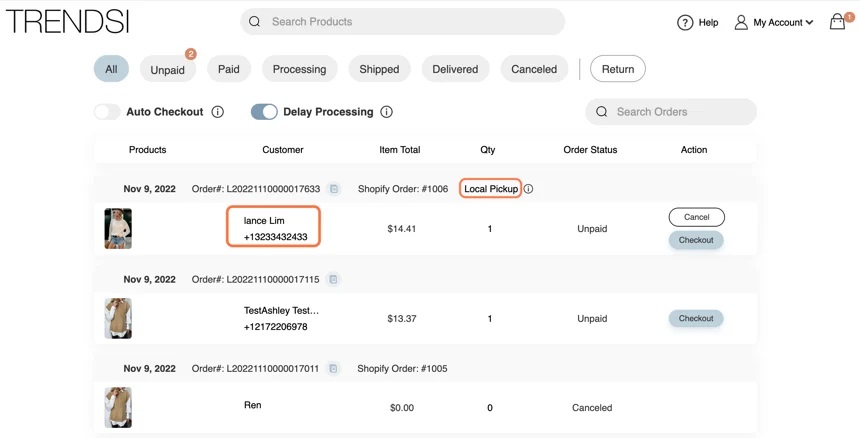 They can also be identified in an order detail page next within the shipping address field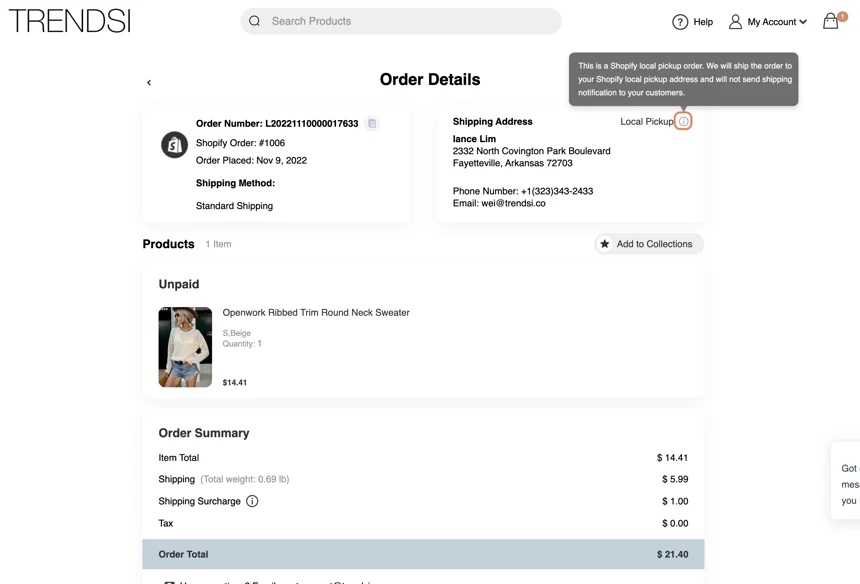 Shipping notifications will not be sent to your customers since these orders are being shipped to you

Once you receive the order and it's ready for customer pickup, you will be able to mark it as Ready for pickup on the Shopify side

If you combined multiple local pickup orders into one, the invoice will include details of each order with corresponding customer information