This feature is great for combining multiple orders into a single shipment for the same customer within a 24-hour period. Combining orders that are shipping to the same address within this period can potentially save you on shipping costs. You can also use this feature to your advantage if you offer Local Pickup.

To Combine Orders:
Combining orders is only possible if the Delay Processing feature was enabled at the time the order was placed and after it has been paid.
Go to Account--> Settings--> Order Management--> Delay Processing
Toggling this on will delay the processing on new paid orders for 24 hours and display a checkable button next to eligible orders that can be combined
Note: Orders must be paid before combining. If you have Auto Checkout and Delay Processing turned on, any orders that are not combined will process as normal after 24 hours.
You can either choose to manually combine or auto combine orders. We will go over both options below.
Manual Combine Orders


1. When only Auto Checkout and Delay Processing is enabled, you will need to manually combine orders
2. After enabling, go to Account--> Orders
Select the orders you want to combine, new eligible orders that come in after enabling will have a small circle for you to select/deselect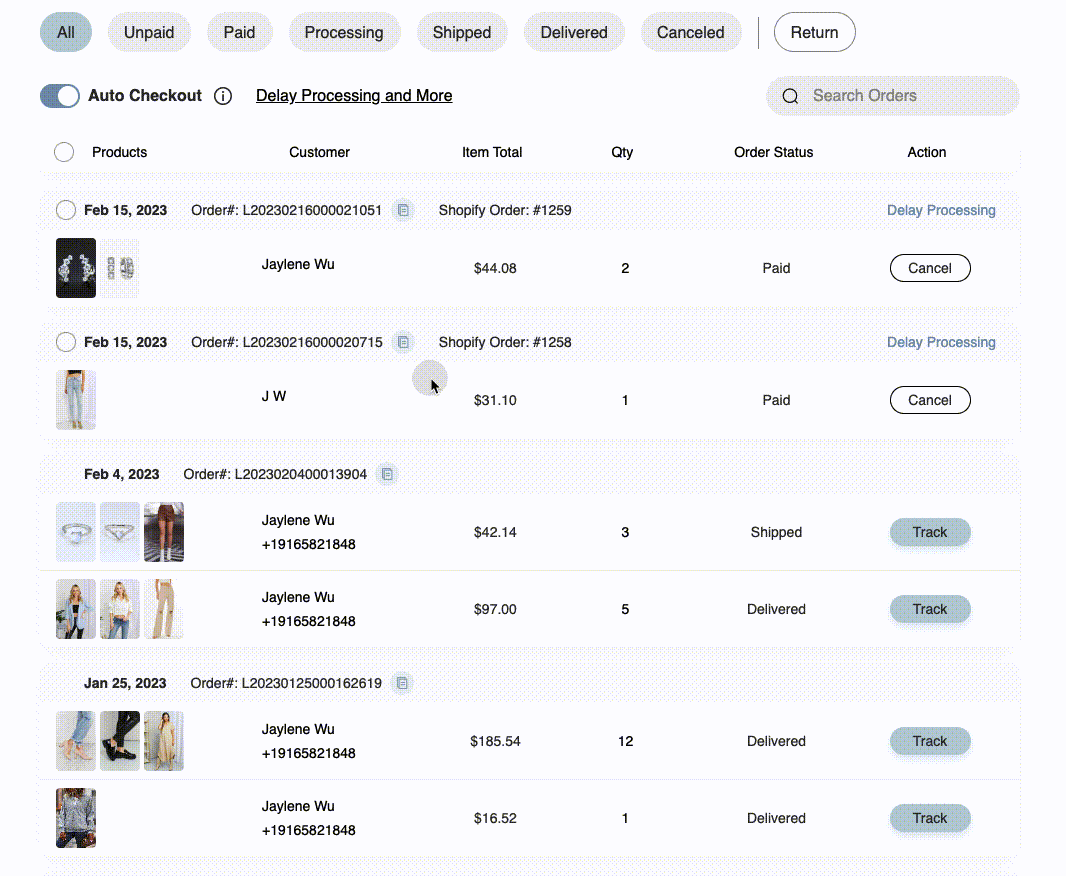 3. Orders that are selected will then have two options:
Combine Order- eligible orders that can be combined
Process Now- orders that you want to bypass the 24 hour delay processing (this is in case you have customers without multiple orders within a 24 hour period). Once this is selected, it will go into processing and cannot be combined with any orders
4. Selecting Combine Order will prompt you to confirm the shipping address
If the shipping addresses are the same for all orders selected, there will be a default address displayed
If the shipping addresses are different, no default address will be displayed and a dropdown will be available to select the appropriate one
5. The combined total, number of packages, and any potential savings on shipping costs after combining orders will be displayed.

Note: Any shipping cost adjustments will come in the form of refunds and be credited back to the original form of payment. While we issue the refunds immediately, it might take up to 5-10 business days for the amount to be reflected in your account.

6. Click Continue and Confirm to combine orders
Once orders are combined, it will start processing and this action cannot be reversed.
Auto Combine Orders

To offer even more efficiency, there is an Auto Combine Orders option, which means you will not need to go through the above steps in this article.
When this feature is toggled on, a new order with a distinct shipping address will automatically combine if additional orders are placed with the same address within the 24 hour period that the first order was placed. This can potentially help you save on shipping costs.
Go to Account --> Settings --> Order Management
Auto Checkout must also be toggled on in order to enable Auto Combine Orders because only paid orders can be combined.

Addresses are not case-sensitive, but must match format and spelling exactly in order to auto combine

For example, these orders will not auto combine:

Address 1 - 123 Fun St., CA 95415

Address 2 - 123 Fun Street, CA 95414
Combined Order Summary can be found by clicking into order details and displayed at the bottom of the combined order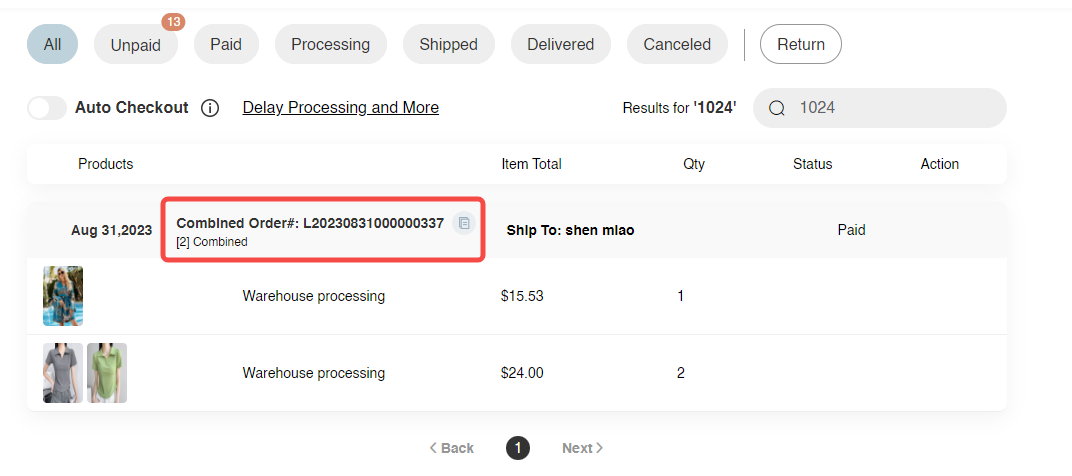 The summary will be separated by the combined individual order numbers.
Click the expand arrow to see more details.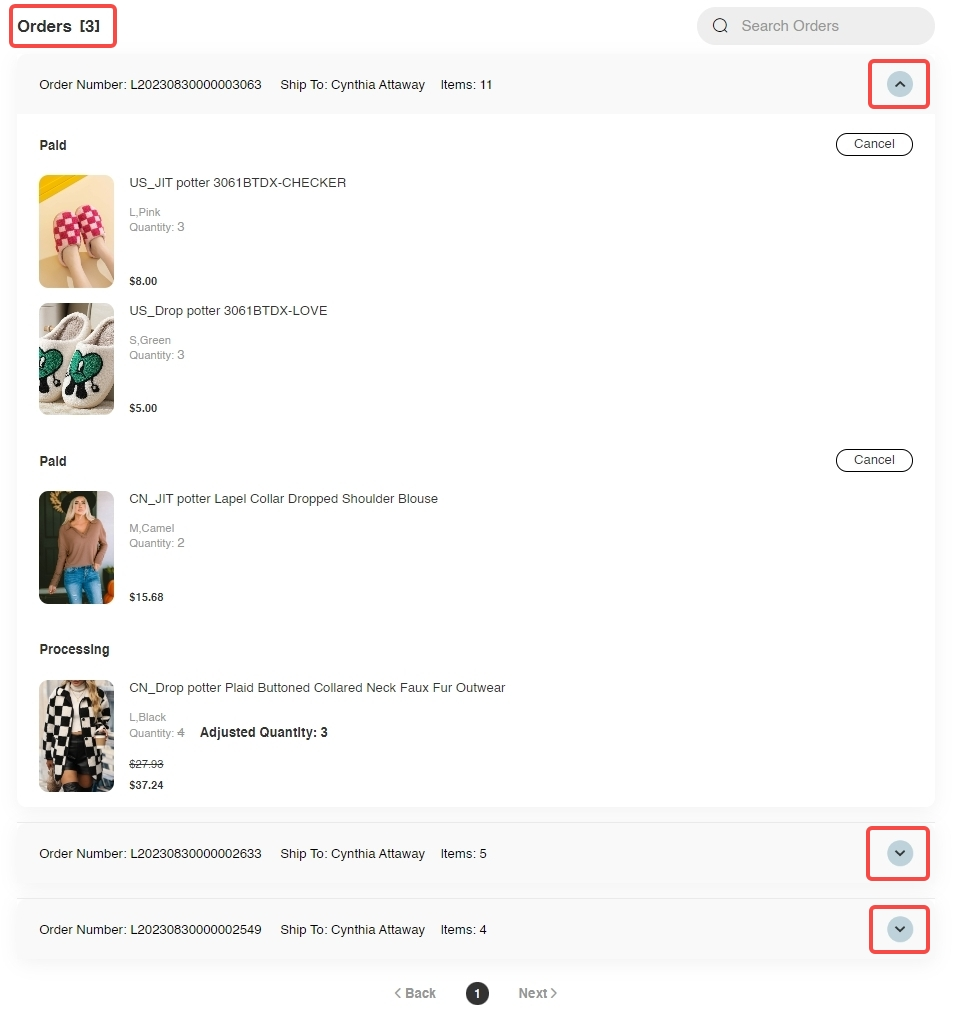 ---

Shipping for Combined Orders
Sometimes combining orders does not mean they will all arrive in one single package. The number of shipments will be determined by which warehouse the products are shipped from. You can find the number of packages a combined order will have either on the summary order page or inside the combined order details page.

Order Summary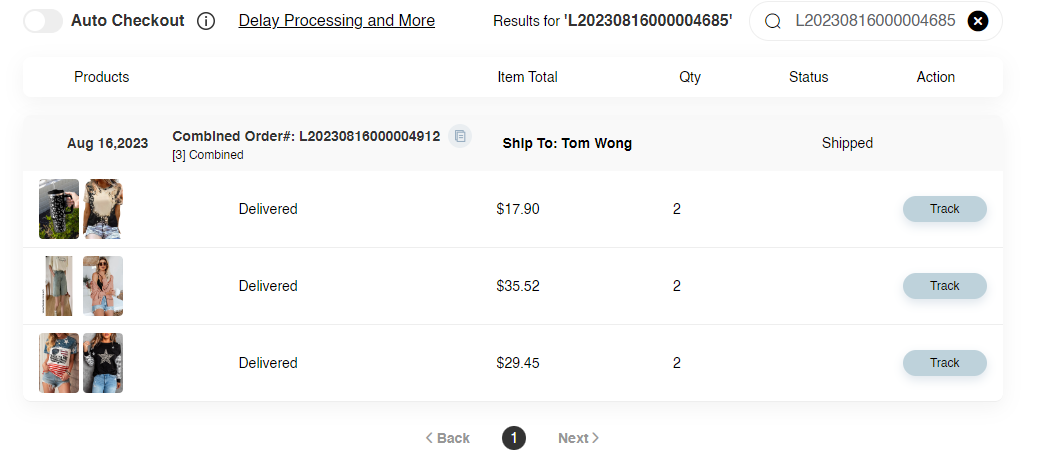 Order Details