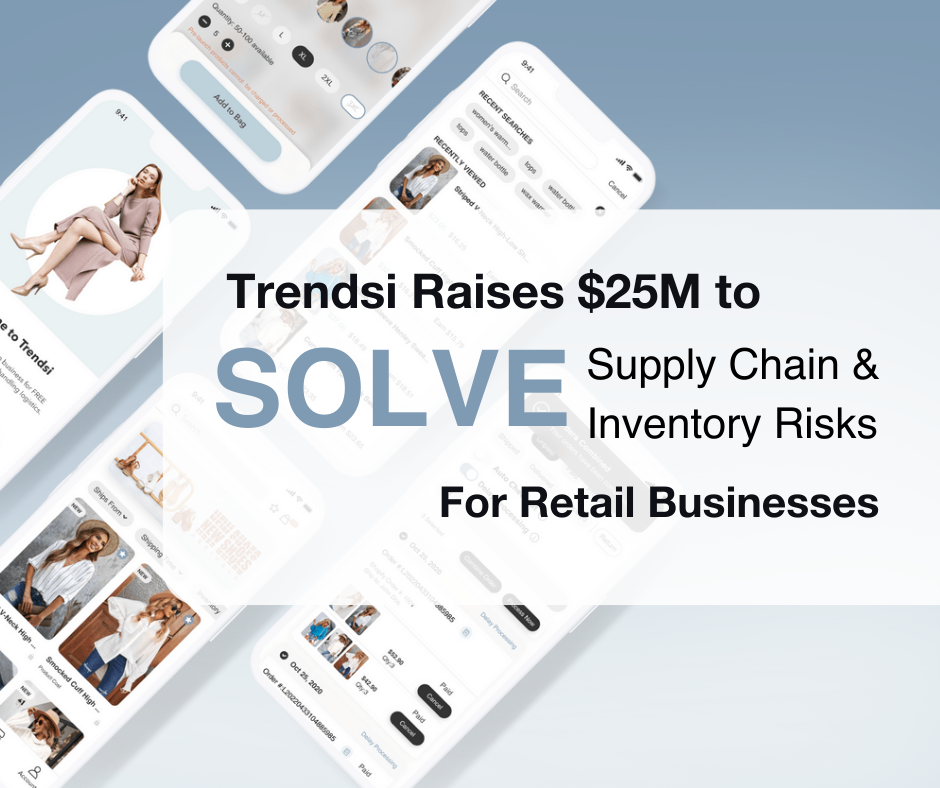 When the Pandemic hit, many retail businesses filed for bankruptcy, whereas many others thrived by moving online. Trendsi was born during the Pandemic and aimed to make it easy for retailers to start their online businesses and build their own brands. There were many who couldn't believe Trendsi was a free service built for them and initial resistance due to the stigma surrounding the dropship experience at the time. However, Trendsi soon took hold when, within a few clicks, retailers can choose their products from a curated B2B marketplace and port the product details: stock photos, description, product measurements, and price to their storefront. When they make a sale, Trendsi will take care of all the logistics - branded invoices, packing products, and shipping to consumers in the name of these boutique stores.
Yesterday marked Trendsi's 2-year anniversary
Along with this milestone, we are happy to announce that we have closed our Series A round with $25 million, bringing our total capital raised to $30 million. Funding was led by Lightspeed Venture Partners, with strong participation from new and existing institutional investors, including Basis Set Ventures, Footwork VC, Peterson Ventures, Sierra Ventures, Liquid 2 Ventures, and a group of founders & operators - including Zoom CEO Eric Yuan, former COO of StitchFix Mike Smith, Zola CEO Shan-Lyn Ma, Logitech CEO Bracken Barrell, former COO of Yelp Geoff Donaker, former President of Instacart Nilam Ganenthiran, Joe Mantana – among others.
Trendsi was founded by CEO, Ella Zhang, along with co-founders Sherwin Xia, Maddie Davidson, Owen Ma, and Wayne Chen, forming a team of e-commerce and supply-chain operators from Stanford, Google, Alibaba, SHEIN, Rakuten, JD, and more, with the mission to empower modern retail businesses by providing quality inventory, dropship, and back-end infrastructure.
We've Got Your Backend
Scaling a retail business requires ample resources and a compelling product assortment with significant margins. Trendsi's supply chain technology and vast, on-trend inventory give retail businesses the infrastructure they need to do it with ease.
One of the biggest challenges that both manufacturers and retailers face is inventory problems. In the traditional B2B world, manufacturers don't know how much they should produce. Manufacturing too much leads to excess inventory & waste, and manufacturing too little leads to missed sales opportunities. On the retailer side, there is the upfront risk of buying wholesale and the inability to quickly expand product categories. Excess inventory could also result in waste and crush the business.
Trendsi offers risk-free inventory solutions through our dropship service. The original upfront risk of buying inventory is now shared among retailers, the Trendsi platform, and the manufacturers. In an uncertain economy – with inflation soaring and a recession looming – Trendsi not only help independent retailers to start and scale their businesses but also enable established brands to obtain better margins and optimize cash flow.
Our Focus
Reduce profit loss on excess inventory

Product variety with better margins

Next-gen supply chain technology to avoid out-of-stock

Logistics infrastructure to ensure shipping stability

Business scaling without risks
Our Growth
Since our founding 2 years ago, Trendsi has grown to 105 full-time employees globally and expects to reach 120 by the end of the year. Our Shopify app is #1 in the Fashion category, with a new user growth rate of up to 10x year-over-year.
With this growth, we have been able to partner with major US designer brands, such as Judy Blue, Sew in Love, White Birch, Kancan Jeans, Hyfve, POL, Zenana, Andree by Unit, and more. The partnerships focus on clearing excess inventory for the wholesalers, and broadening the customer base from retailers who can afford to buy bulk inventory, to those who need lower barrier entry to list these designer brands.
A Word From Our Investors
"The No.1 pain point for e-commerce business is supply chain, and that is exactly what Trendsi is solving for. Ella and the exceptional Trendsi team are putting automation and machine learning to work to empower anyone from anywhere in the world to sell high-quality and trendy products. They are one of the very few teams who's able to build the advanced tech as well as complex supply-chain operations in commerce." Xuezhao Lan, Founder and Managing Partner, Basis Set Ventures, Board Director of Trendsi
"Ask any merchant their biggest challenges and you'll consistently hear about inventory risk and the resulting limitations around product selection. Trendsi solves both. They connect sellers directly with suppliers, risk free, while managing the back end supply chain for their customers. It's a no brainer for merchants, resulting in incredible inbound traction since their launch."
Arsham Memarzadeh & Alex Taussig, Partner, LightSpeed Venture Partners
"Trendsi is the first mover of the post Pandemic economy."
Joe Montana, Former football quarterback in the NFL, Founder of Liquid 2 Ventures.
What's Next For Trendsi
With the capital infusion, Trendsi will expand in merchandise categories where there is strong upward momentum like home decor, accessories, makeup, etc., as well as international expansion.
More importantly, we are heavily investing in data infrastructure and supply chain technology through AI/machine learning in areas like inventory, sales forecasting, and unique product curation. With this long-term investment, we aim to solve the dilemma that the retail industry faces - overstock and out of stock, and democratize the retail market to empower more modern small businesses.