What is Inventory Location?
Inventory Location refers to the specific place in your Shopify store where Trendsi products are stored. By default, Trendsi acts as a warehouse that fulfills orders on your behalf. You can change which Shopify inventory location Trendsi products can be added to. This feature may be useful if you are a CommentSold user or hold your own inventory and would like to keep Trendsi's products separated.
Why Modify Inventory Location?
By default, all Trendsi products will be added to the Trendsi location. However, CommentSold users need to change the Inventory Location to their default Shopify location because CommentSold is designed to only support the sale of products that are located in the default Shopify location.
To ensure seamless integration with CommentSold and enable the sale of Trendsi products, users must change the Trendsi Inventory Location to their default Shopify location. By doing so, CommentSold will recognize and support the sale of these products, allowing users to fully benefit from both Trendsi and CommentSold services.
Changing Inventory Location in Settings
1. Mobile app: Store --> My Shopify Stores --> Store Settings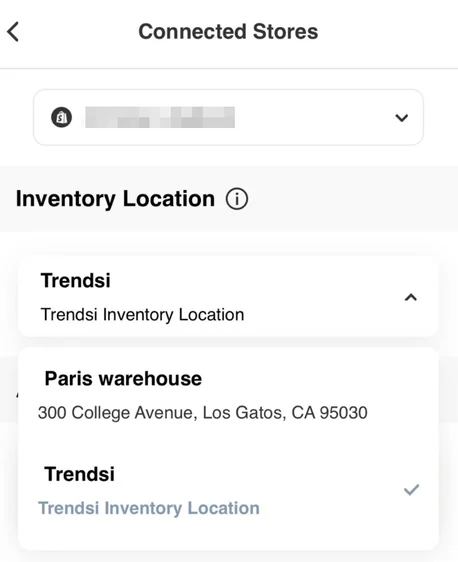 Or Web app: My Account --> My Shopify Stores --> Store Settings

2. Select the Shopify location in Inventory Location (Locations are created in your Shopify admin)
3. Click Save to confirm the change
Reminder: Once saved, Inventory Location cannot be changed again for 7 days


A few things to note if you decide to move Trendsi products to a new location:
As you update your Inventory Location, the time it takes for all existing Trendsi products in your Shopify store to move to the new location can vary. Depending on the number of products you've imported, it could take up to 48 hours. Rest assured that your inventory will continue to sync correctly throughout this process.
After confirming the location change, syncing will start 1 hour after you save.