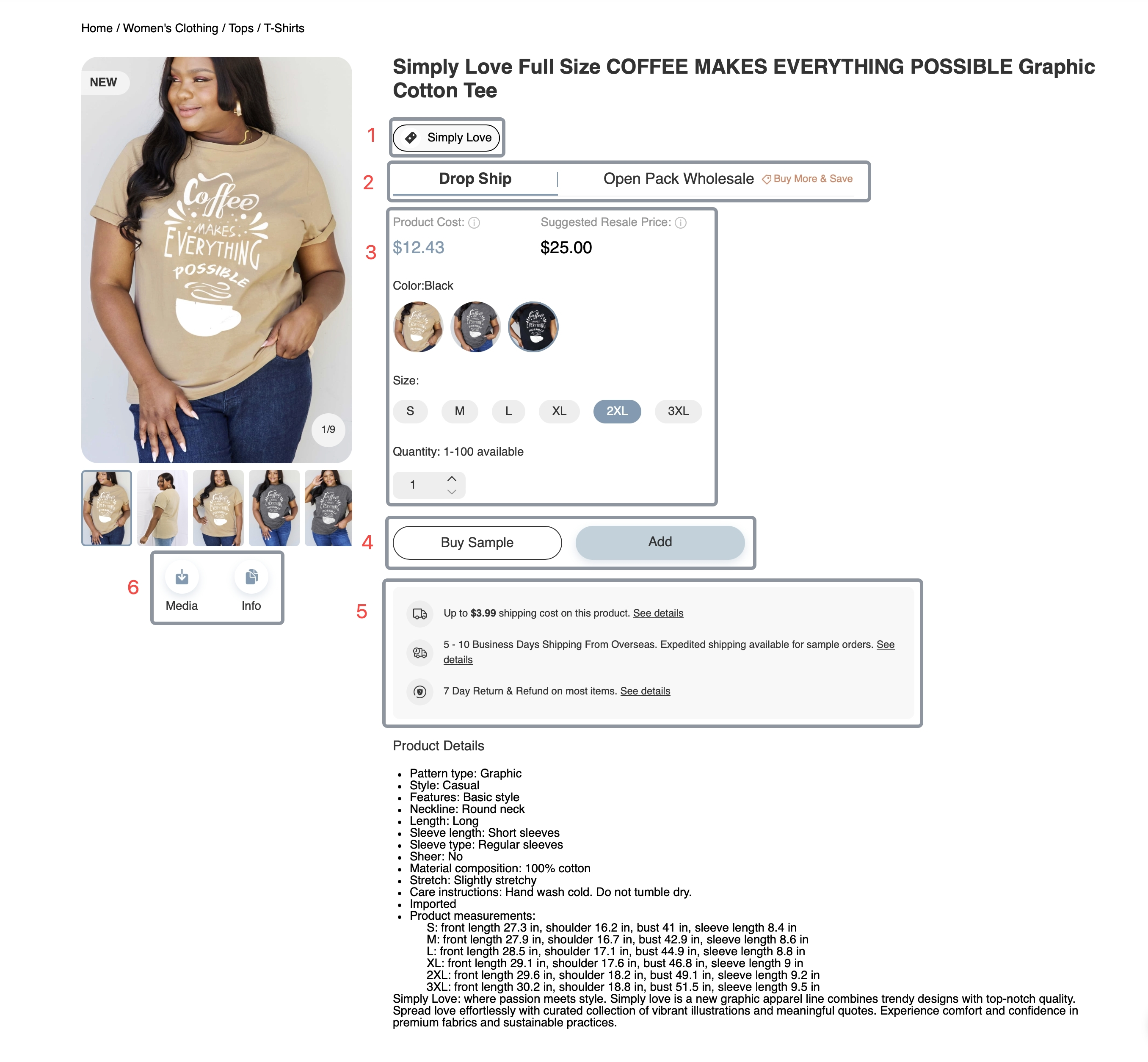 1. Product Brand or Supplier
Trendsi sources products from various brands. You can expect normal tags and/or information on the products that originally come with each brand. If a product is branded, this will be a brand name.

A majority of our overseas products are White Label, which means it is unbranded with only generic size and care tags. In this case, we will surface the supplier information. This is helpful if you want to see more products from the same supplier by clicking into this tag.
2. Indicates whether a product is available for dropship and/or openpack wholesale
3. Product Cost, Colors, Sizes, and Quantities available
Product Cost- This is also known as the wholesale cost of a product and what you pay to Trendsi if you sell this product
Suggested Resale Price*- A recommended retail price, usually 2x markup of the product cost
*As a Shopify owner, you can set your own retail markup by using the Price Rules feature
4. Buy a Sample or Add to a Trendsi Collection/Shopify Store
Buy Sample- you will pay the Product Cost for samples, make sure to select the correct size and color
Add- add directly to your Shopify store or add to a Trendsi Collection
5. Shipping cost, Shipping time, and Returns information:
Shipping Cost- Approximate shipping cost based on weight See details
Shipping Time- Shipping times will vary depending on where the product is shipped from (US or overseas) See details
Return Policy- Not all categories are eligible for return, please check Trendsi Return Policy
6. Media button will allow you to download all images or videos of the product at once
Info button will copy all information under Product Details