There is more than one way to sell on TikTok - either through Shopify or using the Trendsi x TikTok Shop direct integration. Below are details to help you decide which is the best option for your business.
Selling on TikTok via Shopify
If Shopify serves as your primary e-commerce platform, and you have other sales channels integrated, such as Facebook, Instagram, or CommentSold, using the direct TikTok Shop integration may not be the most suitable choice for you.
You can continue selling on TikTok by adding it as an additional sales channel through Shopify, without encountering any issues. However, it's worth noting that Trendsi x TikTok Shop offers a smoother and more straightforward setup process at no cost, eliminating the need for third-party apps like Aftership Feed to sell on TikTok.
When the same product is added to your TikTok Shop from both Shopify and direct integration, it will show up to your TikTok Shop as a duplicate. Therefore, if you'd like to switch from selling on TikTok via Shopify to using Trendsi x TikTok Shop integration, you do not need to migrate existing products. We suggest importing new products using the Trendsi x TikTok integration since we are still able to process orders and differentiate where they are coming from.
To get started, you will just need to add TikTok as a sales channel in your Shopify admin.
Go to Shopify admin --> Click Sales Channel --> Search TikTok --> Follow steps to link your account with Shopify.

Once TikTok is enabled as a sales channel, all products you import from Trendsi to Shopify will also push to you TikTok Shop sales channel.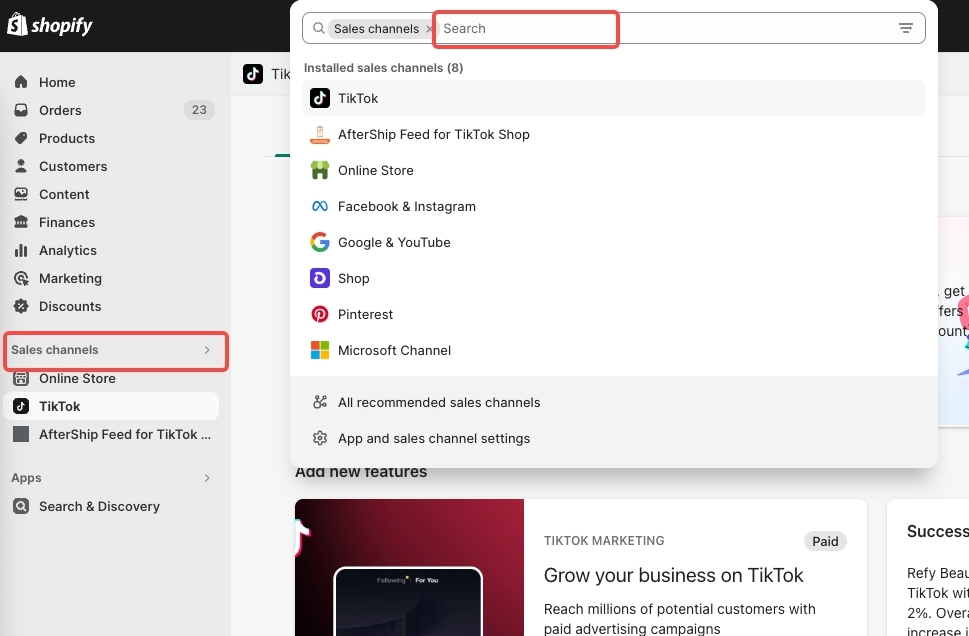 Selling on TikTok via Direct Trendsi app Integration
The direct integration with Trendsi makes adding products to TikTok Shop a breeze. Simply select the products you wish to sync and add them. All the necessary product information, including categories and subcategories, will be automatically generated on the TikTok side.
If you were previously using Shopify solely for the purpose of selling on TikTok Shop, you can now take advantage of the direct integration without the need to manage a separate website and collections. This not only streamlines your operations but also helps you save money on subscription fees.
---
Choose the selling method that aligns best with your business needs, whether it's the familiar Shopify route or the efficient and cost-effective Trendsi x TikTok Shop integration.